Corporate Event Entertainment: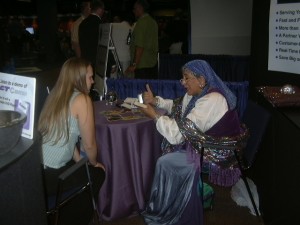 Are you planning a big corporate function and are unsure what to do for entertainment? Adding Psychic Entertainment into your party mix will be a hit that will be talked about for years to come. Barbara G Meyer is one of Chicago's premier psychic readers and has the experience to back it up.
Why have me at your next corporate function?
• A great ice breaker—it will get people talking, comparing their readings, and in a social mood.
• Relaxing and fun to do
• Ego boosting—guests feel good about themselves and excited about their future
• Memorable—they will talk about how much FUN this event was long afterward
Trade Shows:
Do you want to stand out from the crowd at your next trade show? Do you want something fresh and original to make people flock to YOUR booth?
• Draws people to your booth. The word gets around: "you must go to [YOUR booth] and talk to the fortuneteller. It's amazing!"
• While they wait for their readings you can talk up your product to a "captive" audience.
• I can add a tag line at the end of their reading, saying something that will send them back to YOU
• I can give them a memento or gift from YOU that will make them remember their visit to YOUR booth
• You can make me a reward for listening to your sales pitch
• My colorful and eye-catching outfit will attract people to your booth
Contact us by phone or email today for information about our psychic entertainment for your corporate event.
Save