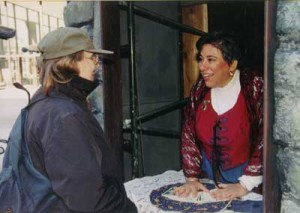 Barbara G Meyer has been a professional psychic and psychic entertainer since 1989.She reads tarot cards or palms (or both if desired) in a light, positive, and fun way that people really enjoy. When they are done, your guests will feel good about themselves and excited about their future.
She has entertained at Bar Mitzvahs, High School Events, Corporate picnics and Christmas parties. She is very flexible about adjusting to your entertainment requirements. You can situate her at a table for people to come to her or she can move around the room. She can dress as a gypsy fortuneteller ("Madame Zandra"), in a costume to match the theme of your party, or in "plain clothes" as desired.
Barbara has appeared on "Sonya Friedman Live" on CNN and was a regular on Psychic Chicago Radio on WVVX-FM.
Barbara primarily works in the Chicago Metropolitan area but has been known to make exceptions (such as Hammond, IN, Appleton, WI, and other venues).
Companies Barbara has entertained include:
Amoco
Ameritech
MCI
City of Chicago
DuKane
Standard Club
Glencoe PTA
East Bank Club
Empress Casino
Showboat Mardi Gras Casino
American Cancer Society
American Library Association Child Abuse Prevention Services
Health Staffers Inc
Axiom Solutions Inc
Grossinger Auto Mart
WVVX-FM Radio
Bradley-Bourbonnais Comm. High School
Carl Sandburg High School
Adlai Stevenson High School
Victor Andrew High School
Downers Grove High School
and many others!
Contact us by phone or email today for information about our psychic entertainment.
Save